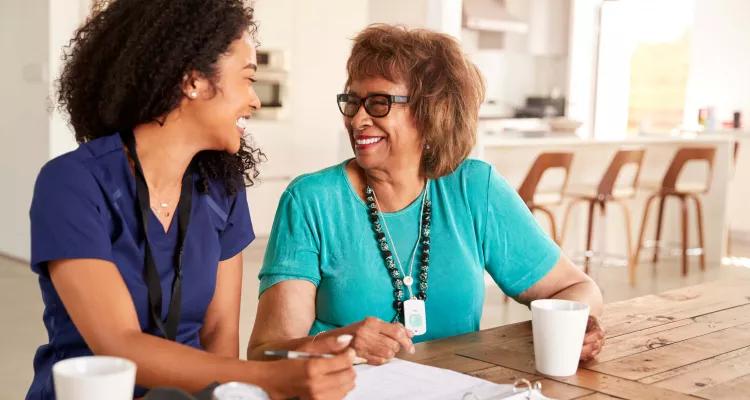 Our communities play a key role in our daily lives. The people we meet every day influence our decisions, even our health-related decisions. Community health workers (CHWs) have become a vital part of how people seek and receive care. Diabetes Free SC (DFSC) recognizes the crucial role CHWs play in the health of a community. In August 2021, DFSC announced the Community Health Worker project as a new funded program to help reduce diabetes and its complications among South Carolinians.
"CHWs are trusted members of the community who empower their peers through education and their connections to health and social resources," says DFSC Program Director Noreen O'Donnell. "CHWs are nonclinical members of patient care teams. Their support of individuals with or at risk for diabetes is key, enabling access to necessary components of health care and educating patients about diabetes, its complications, and the steps necessary to preserve and optimize health."
What is the CHW project?
Kimberly Rawlinson is a CHW specialist with the Center for Community Health Alignment at the University of South Carolina Arnold School of Public Health. According to Rawlinson, the CHW project focuses on creating a diabetes prevention and management model to improve the health of people with diabetes or prediabetes.
"The project provides core competency training for CHWs, as well as supervisor training. We also are working to develop a CHW-focused diabetes prevention and management specialty track curriculum. The Center for Community Health Alignment is providing ongoing technical assistance support and coaching on best-practice implementation to the five participating federally qualified health centers (FQHCs)."
The five participating health centers are:
Affinity Health Center (York County)
Beaufort-Jasper-Hampton Comprehensive Health Services (Beaufort, Jasper and Hampton counties)
CareSouth Carolina Inc. (Dillon and Lee counties)
HopeHealth Inc. (Florence County)
Tandem Health (Sumter County)
How does the project address health disparities?
The mission of DFSC is to reduce diabetes while addressing health disparities among South Carolinians. This mission is a keystone of the CHW project.
"The CHW project is a step in the right direction in addressing health disparities," Rawlinson says. "African Americans in South Carolina are disproportionately affected by diabetes. This project addresses those disparities by using the CHW model to build the capacity of FQHCs by developing and enhancing CHW diabetes-focused programs. The CHW model has been shown to have a significant impact in improving the health of individuals who are living with diabetes or who are at risk of developing diabetes."
CHWs will help bridge the gap between their communities and formal health care providers. "CHW models have been shown to be effective at reducing the impact of health disparities. The trust between CHWs and patients is critical in building support," O'Donnell says. "CHWs work in the communities and are skilled at navigating community resources that we know impact someone's health outcomes and quality of life but exist outside of the clinical scope. These include but are not limited to food, transportation and housing. CHWs also help to inform clinical team members on ways they can better meet patient needs based on their personal, home and community contexts.
What are the first steps?
The first year of the program will be focused on training CHWs in diabetes prevention and management.
"During the first year of the program, CHWs will be trained using the CHW core competency curriculum as well as a diabetes specific curriculum. CHWs will begin working with patients at all five of the FQHCs, and a program evaluation structure will be fully developed. Over the course of the project, we expect to see improvement in relevant clinical markers and quality-of-life measures," O'Donnell says.
"We are very excited about this project and the opportunity to work alongside the FQHCs to develop the CHW-based diabetes prevention and management model," Rawlinson says.