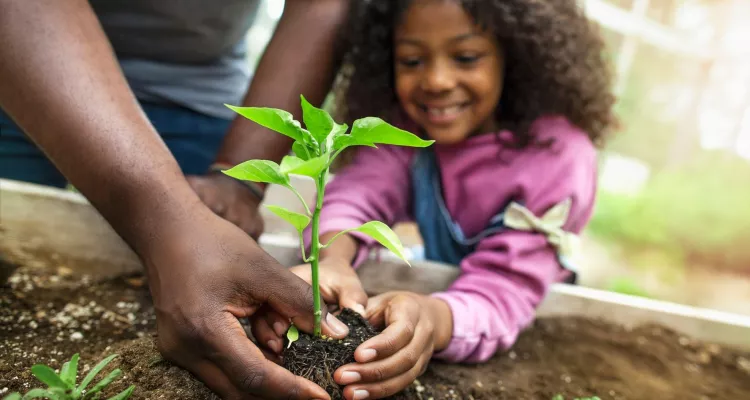 Type 2 diabetes in children is on the rise in South Carolina, according to the state Department of Health and Environmental Control. The agency says the childhood obesity epidemic is to blame.
To combat this trend and to help South Carolinians form healthier habits, Diabetes Free SC (DFSC) is working with two complementary organizations that focus on school-based wellness programs over a three-year period.
With grant funding from the BlueCross BlueShield of South Carolina Foundation, the Medical University of South Carolina Boeing Center for Children's Wellness (BCCW) and Alliance for a Healthier Generation can further their missions to reduce the risk of diabetes and other chronic diseases — which align with the goals of DFSC.
"We aim to be the hub and connection point for school districts to connect with resources and partners throughout the state," said Sarah Piwinski, assistant director of the BCCW.
The organizations hope to recruit 28 school districts throughout South Carolina to implement wellness programs. When that goal is met, more than 250,000 schoolchildren from kindergarten to 12th grade will benefit. Support from DFSC is helping the program expand to seven additional school districts.
"Overwhelming evidence shows that the earlier we build healthy habits, the better. The healthier the environment and lifestyle during childhood and youth, the lower the risk of diabetes in adulthood. In South Carolina, our programs help schools to provide a unique opportunity for partnerships focused on the child's social, psychological, physical, and intellectual development," said DFSC Medical Director Dr. Timothy Lyons.
The disruption caused by COVID-19 has been a hurdle in meeting this goal. As schools across the state adopted virtual learning plans, organizers had to get creative and adjust their strategies to meet the needs of students and staff.
"COVID-19 changed everything," Piwinski said. "We found the pandemic got a lot of people thinking more outside the box. From doing physical education virtually to providing healthy food options for families, we've seen schools getting really creative."
Piwinski said the pandemic also provided an opportunity for BCCW staff to explore what they could accomplish in a virtual space. One such opportunity was a virtual lesson on locally grown fruits and vegetables. BCCW organizers delivered strawberries to schools and safely distributed to students. Students then virtually met the farmers who grew the fruits to learn about how and where they were grown.
"We've actually found the reach of activities like the taste testing is so much larger in a virtual space because one farmer can be in multiple classrooms at one time," Piwinski said.
Schools across the state are returning to in-person learning in stages. Some have returned to in-person instruction five days per week for all students, while others are operating on a hybrid schedule. Since no school district is the same, the BCCW has dedicated program coordinators who work with each district to understand how the school communities are operating.
"We really tailor the programs to each participating school. We want to give schools the flexibility to meet students and staff where they are," Piwinski said. "Our main thing is looking at what schools are already doing, what they could be doing better and what new things they could implement to enhance a culture of wellness within schools."
BCCW coordinators give participating schools guidance and tools to begin making changes, including a school wellness checklist. It includes tasks organized into categories, including nutrition, physical activity, social-emotional learning and sustainability. Schools are not required to complete all items on the checklist. Rather, coordinators hope district leaders use it as a guide to create a culture of wellness.
"We have a staff wellness component of our checklist as well. And if students see the staff getting excited about the wellness initiative, they're more likely to get excited. It really is about creating that culture of wellness throughout the entire school community," Piwinski said.
Schools receive wellness points for efforts made to complete tasks on the checklist, which has created a friendly competition among schools. Schools that implement significant wellness changes throughout the school year also receive a monetary award in addition to bragging rights. Schools then use that money to expand and sustain wellness initiatives the following school year. These sustained efforts are already having a positive impact on students.
"We've already seen changes in body mass index in some students, and we've also seen impacts on asthma," Piwinski said. BCCW reports a 38 percent decrease in obesity in fifth-graders in Charleston County schools since 2008 and a 12 percent decrease in asthma-related urgent care visits among Charleston County students in participating schools.
The impact goes beyond physical health. Schools participating in the school wellness initiatives have seen student attendance increase and suspensions and expulsions decrease. Data from the BCCW also show graduation rates improving in participating school districts.
"If a student isn't healthy and isn't well, then that student is not going to be a good learner. Students can't be successful in school if they aren't healthy," Piwinski said. "It's all tied together, which is why we focus on those behavioral outcomes and attendance outcomes. Our goal is to create a school environment that supports all students to be healthy, succeed in school and thrive in life. We are hoping to help children grow to be adults who are less likely to develop chronic diseases."
"Overwhelming evidence shows that the earlier we build healthy habits, the better."
Dr. Timothy Lyons | Executive Medical Director, Diabetes Free SC