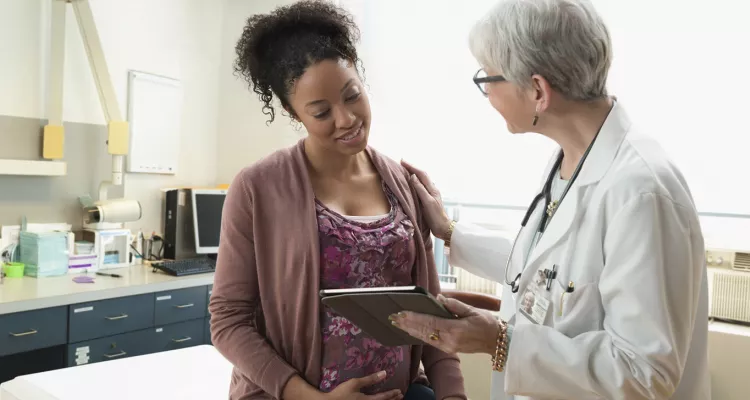 Diabetes Free SC (DFSC) launched Management of Maternal (MOMs) Diabetes programs in 2020. These efforts are part of a long-term commitment to improve the health of all South Carolinians. The MOMs programs accomplish this by improving pregnancy outcomes for women with diabetes.
Dr. Misti Leyva, project administrator of the DFSC pregnancy initiative, oversees the two prenatal programs: MOMs in Control and MOMs in Control of Diabetes Upstate. She says the programs have improved access to care for pregnant women with diabetes.
What makes MOMs different from other programs?
Poor control of diabetes during pregnancy increases the chances for almost every pregnancy problem for mother and baby. Managing blood sugar in pregnancy has many challenges. It often involves separate visits to different providers that impose time, cost and energy constraints. Those demands are often impossible to meet for many pregnant women, especially those living in low-income or rural communities. DFSC's MOMs programs offer coordinated care. Care teams include maternal-fetal medicine and diabetes specialists, diabetes educators, nutritionists, ophthalmologists, and behavioral health specialists working together. This saves patients time, money, energy and stress while providing complete medical care for high-risk pregnancies.
How has the MOMs program evolved in the past year?
Community response has been overwhelmingly positive. We added clinic days to one program site almost immediately. Both program sites have expanded education and training opportunities to medical students. And we have developed new community partnerships to address patients' needs more thoroughly.
Another change to both programs already proving successful is the addition of community health workers (CHWs) to existing programs. CHWs can address needs that extend beyond the clinical environment by linking patients to community resources.
What are some notable outcomes in the past year?
An initial goal was to reach a combined total of 725 patients within three years. Just two years later, we have already exceeded that number. More than 800 women have been helped by the MOMs sites in Greenville and Sumter. Other program goals include improved glycemic control and increased use of diabetes technology and devices. Both program sites are reporting improvements in average A1C results and increased use of continuous glucose monitoring.
What is next for MOMs programs and DFSC?
DFSC and the BlueCross BlueShield of South Carolina Foundation are preparing to launch a new women's health initiative. Although this is not an expansion of the MOMs program, it will complement it. This initiative will focus on improving the health of women who have diabetes or are at risk of developing it. It will focus on women of reproductive age and on care for women both before, during and after pregnancy.
The BlueCross® BlueShield® of South Carolina Foundation is an independent licensee of the Blue Cross Blue Shield Association.