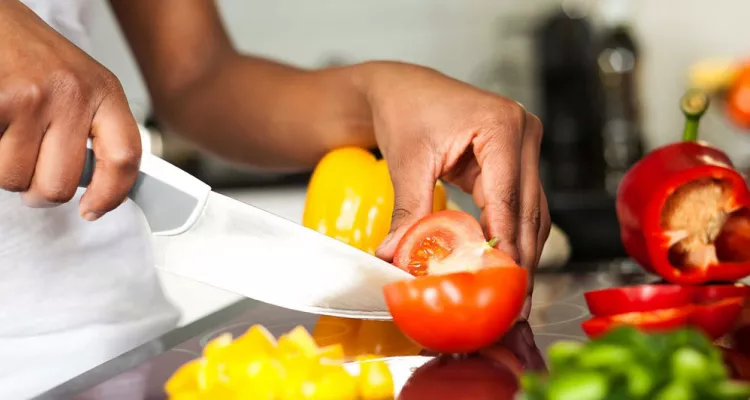 Careful meal planning and preparation is key to managing diabetes. But many people affected by diabetes also are affected by food insecurity. This can limit their access to healthy options.
What is food insecurity? 
According to Beverly Wilson, executive director of the FoodShare South Carolina, food insecurity is defined as "a lack of access to enough good, healthy and culturally appropriate food."
"Everyone needs to eat, and we all need to eat a certain amount to stay healthy, active and happy. Healthy food is nutritious and sustaining. It's full of vitamins, minerals, fiber, energy and all the other things our bodies need to be healthy," Wilson said.
It is estimated that more than 600,000 South Carolinians struggle with hunger, according to Feeding America. More than 178,000 of those are children.
"In South Carolina, 'food deserts' are a major contribution to food insecurity and are a principal cause of hunger," Wilson said. 
"Food desert" is a term often used to describe a community that is food insecure, in which people cannot access affordable and nutritious food. "For example, in certain low-income urban or rural areas, a convenience store primarily selling candy, sodas, snacks and other processed food may be all that is available for families for miles around.  Food insecurity is a very real documented problem in South Carolina," Wilson said.
Communities with low or no access to healthy foods also tend to have income inequality, racial segregation and poor transportation, according to the U.S. Food and Drug Administration.
Food insecurity and diabetes
There is a direct link between food insecurity and health. People who experience food insecurity are at higher risk of having diabetes, according to Wilson.
"The odds of having diabetes are almost twice as high among food insecure low-income adults compared with those who are food secure. And pregnant women who are food insecure have a greater risk of developing gestational diabetes than those who are food secure," Wilson said. 
Food insecurity and diabetes disproportionately affect Black South Carolinians. Information from the South Carolina Department of Health and Environmental Control shows diabetes is more prevalent among non-Hispanic Black adults than among non-Hispanic white adults. Furthermore, the death rate for Black people with diabetes is twice as high as for white people, and there is a similar disparity in the effects of food insecurity for Black compared with white South Carolinians. 
DiabetesFree SC (DFSC), an initiative launched in 2020, is a long-term commitment to reduce health care disparities and improve the health status of all South Carolinians affected by diabetes.
"DiabetesFree SC is dedicated to reducing the racial and income disparities in the prevalence and severity of diabetes, and in access to care, that afflict our state," said Dr. Timothy Lyons, executive medical director for DFSC. 
Resources to help
In Type 2 diabetes, by far the most common form, the body is resistant to insulin and cannot make enough to maintain a normal blood sugar. In recent years, Type 2 diabetes has become increasingly common in children, particularly Black and Hispanic children, as childhood obesity has increased.
Getting proper nutrition is one of the most important things a person can do to manage their diabetes. But without consistent access to healthy food options, this is very difficult.  Managing diabetes can be nearly impossible for those who are food insecure, according to Meg Stanley, executive director of Eat Smart, Move More South Carolina.
"If you don't know when or where your next meal is coming from, keeping your diabetes in control is challenging," Stanley said. "If you're food insecure and you don't have the ability to make a choice as to what you're consuming, it really reduces your ability to follow any diabetes management program your health care provider gives you."
Even with access to fresh produce and healthier foods, people who live in food insecure communities may lack other tools.
That's where programs like FoodShare South Carolina come in. 
"The most visible part of FoodShare is our Fresh Food Box. Every two weeks, participants can purchase a box of produce, giving them the power and dignity to provide for themselves and their families," Wilson said. "FoodShare is more than just a box of food. It's confidence. It's empowerment. It's hope." 
DFSC is investing in FoodShare to help prevent diabetes and its complications in adults. The FoodShare program offers affordable fresh food boxes to people throughout the state. Large produce boxes are $20 cash or $10 EBT, and small produce boxes are $15 cash or $5 EBT. Many participants might not otherwise have access to fresh produce. Each food box also includes a recipe card with instructions on creating healthy meals based on the produce in the box. 
DFSC has committed funding for five years to help expand FoodShare, prioritizing recipients who receive Supplemental Nutrition Assistance Program (SNAP) benefits. SNAP recipients also can receive financial assistance to pay for their FoodShare boxes through Healthy Bucks. This program, managed by the South Carolina Department of Social Services, helps make produce more affordable for SNAP recipients through additional purchasing power when using SNAP EBT cards at participating locations like FoodShare. 
FoodShare South Carolina also offers educational programs. These are designed to help participants learn to use the fresh foods in their food boxes. They include cooking classes and a special curriculum on nutrition that emphasizes the role of food in disease prevention and treatment.
"At DFSC, we view the work of FoodShare South Carolina as foundational for reducing the impact of diabetes. Without healthy nutrition being available and affordable for all, we cannot win this battle," said Lyons. 
Living with diabetes? Explore our health & wellness resources.