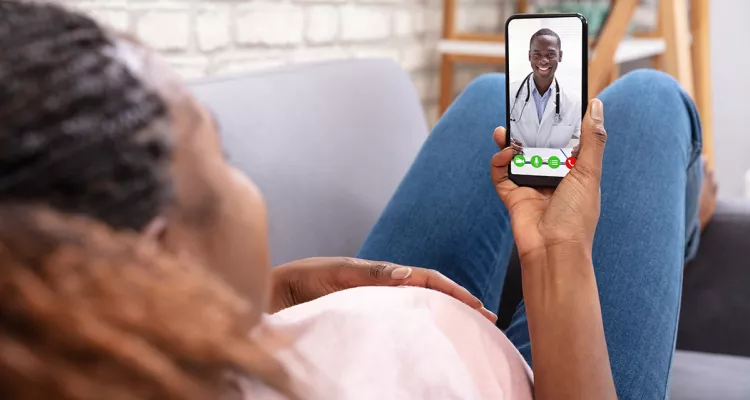 More than 500,000 South Carolinians have been diagnosed with diabetes. Those who live with the disease also have a higher risk of developing other health complications, including severe illness caused by COVID-19.
The disease can be managed with proper care. A healthy diet, exercise, weight control and, if applicable, smoking cessation, are big steps in the right direction to manage diabetes. Many people with diabetes are also aware of the need to conduct blood glucose and A1C checks. But there are other common care practices that often go overlooked according to Dr. Timothy Lyons, BlueCross BlueShield of South Carolina's executive medical director for the organization's Diabetes Free SC program, and an endocrinologist and professor of medicine at MUSC.
The A1C test and home blood sugar checks
The A1C test reflects average blood sugar levels over the prior six to eight weeks.  For most people with diabetes, A1C should be checked every three months, and as with blood pressure and cholesterol, people should "know their numbers."  
"The A1C target varies according to individual circumstances. In people with diabetes, it generally should be around 7 percent," Lyons said. "A completely normal value is under 5.7 percent, but in diabetes, control of high blood sugar must be balanced against the risk of low blood sugar."
While diabetes causes high blood sugars, some treatments bring a risk of low values that can also be dangerous. Actual blood sugar levels can be tested at home with a variety of different devices ranging from simple finger stick testing to the more sophisticated continuous glucose monitoring (CGM).  CGM is particularly valuable to alert people taking insulin or certain oral diabetes medications to low sugar levels.  Low-sugar alerts are especially important in older patients who may not experience the warning symptoms of low sugar as clearly as they did in their youth according to Lyons.
Blood pressure checks
"Blood pressure also should be checked at office visits every three months," Lyons said. 
The ideal blood pressure depends on individual patient circumstances, but almost always it should always be below 140/90. High blood pressure can cause damage to blood vessels throughout the body over the years. "In people with diabetes, most damage can be prevented through early detection and control of blood pressure, blood sugar and cholesterol," Lyons said.
Cholesterol checks
People with diabetes should have their cholesterol checked annually, or more frequently if abnormal, Lyons recommends. While a healthy diet is key to maintaining proper cholesterol levels, often it is necessary to use a medication as well.
"Many providers suggest everyone with diabetes take a statin. This is because statins have potent protective effects against heart disease in people with diabetes, even apart from their effects on cholesterol" Lyons said.
Urine protein checks
Diabetes can cause kidney damage, and the earliest sign is excessive leakage of protein in the urine. If untreated, the stress on the kidneys reduces their ability to filter waste and can lead to kidney failure.
"If this is detected early, we can do a lot to prevent progression to severe kidney damage or failure," Lyons said. "It is critical to make sure you get this urine test every year."
Eye checks
Regular eye exams are also important to managing diabetes. Diabetes can damage the retina (the light-sensitive tissue at the back of the eye) and can lead to impaired vision or blindness. People with diabetes also have a higher risk of cataracts and glaucoma. 
"All of these problems can be effectively prevented or controlled, but again, early detection is key. Make sure you see an eye specialist every year," Lyons said.
Foot checks
Poorly controlled, long-standing diabetes can impair circulation and damage to sensory nerves. This, in addition to susceptibility to infection, can put people with the disease at risk of losing their feet. 
"Make sure you get education about proper foot care. Your health care provider should examine your feet at every office visit, especially if you are older or have long-standing diabetes," Lyons said. 
Dental checks
Oral health can be an indicator of your overall health, according to the Mayo Clinic. Buildup of bacteria not only leads to gum disease and tooth decay but can also contribute to serious health issues like cardiovascular disease. Diabetes reduces the body's resistance to infection, making gum disease more likely.
"Make regular visits to your dentist if at all possible," Lyons said. "This is not a matter of sweet breath and an attractive smile. Bad teeth and gum disease can cause inflammation throughout the body and accelerate heart disease and hardening of the arteries."
Mental health checks
Stress and anxiety are common reactions after receiving a diabetes diagnosis. Lyons encourages those experiencing mental and emotional stress to seek psychological help.
"Reading about the complications of diabetes can be frightening, but please understand that we now have many ways to prevent them, and the situation is constantly improving," he said. "Managing your diabetes is getting easier, and lifestyle changes do not happen overnight. The earlier you start the better, and by working with your physicians and care team, you can avoid complications and enjoy a long and healthy life. You are the most important member of the team!" 
For more information on managing diabetes, visit the American Diabetes Association and the Mayo Clinic websites.
Living with diabetes? Explore our health & wellness resources.