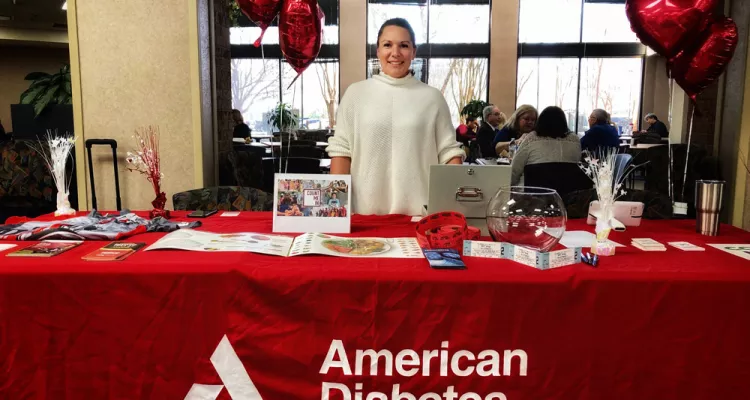 This month, BlueCross BlueShield of South Carolina is working with the American Diabetes Association (ADA) in South Carolina to raise awareness about the organization's services and education it offers to the community. 
Throughout the month, BlueCross is aiming to educate its employees on how to prevent, delay and control diabetes through a healthy lifestyle. 
"We are excited to collaborate with the American Diabetes Association by showcasing the work it is doing to help South Carolinians impacted by the chronic disease. As a result of this campaign, we hope to give our employees some simple but helpful tools they can incorporate into their own lives. Together, we can all become more compassionate advocates for our families, friends and neighbors who are managing the disease," says Elizabeth Nkuo Johnson, director of community relations at BlueCross. 
To share a little about what the ADA does, Tifani Moore, development manager in South Carolina, shares some insight into the organization's role in the state. 
1. What does the American Diabetes Association do? 
The ADA's mission is to help find a cure for people living with diabetes. It is our job and our mission to lead the way when it comes to scientific research. Funding to support research comes from events we hold and other fundraising efforts. We are also the voice when it comes to making sure that people with diabetes are treated equally and they have the same rights as others. We also created the Standards of Medical Care that helps health care professionals care for people with diabetes. For South Carolina, we host a lot of different events and serve as advocates in the state. We send kids with Type 1 and Type 2 diabetes to Camp Carolina Trails every summer. It's an opportunity for them to go and be a kid. They don't have to feel like the pump they have or that they have to take medication makes them different. 
2. What is the situation with diabetes in South Carolina? 
In South Carolina, approximately 576,211 adults — or 14.1 percent of the population — have diabetes. Almost 130,000 don't even know they have diabetes. The cost of diabetes in South Carolina is $5.4 billion each year. 
3. Why is diabetes something people here should know or care about?  
With our lifestyle, especially when it comes to Type 2 diabetes, it is very manageable. Diabetes is one of those diseases that people assume that if you live an unhealthy lifestyle that you get it. That's not the case. I think diabetes is overlooked a lot because people think it is an unhealthy person's disease. People don't realize how many people are touched by diabetes. Also, it can be treated. With health and nutrition and the right medicine and the right health professionals, you can live a long, healthy life. 
4. What are some of the top concerns around diabetes right now? 
We created Know Diabetes By Heart in partnership with the American Heart Association, to highlight the connection between diabetes and heart disease. Living with Type 2 diabetes puts you at higher risk for heart disease, stroke and heart failure. Another concern is the cost of insulin. We have many in South Carolina who are unable to afford the cost of their medication. We are constantly helping the community find ways to save and cost-friendly options for the life-saving medication they take daily.
5. How can others get involved? 
Others can get involved by volunteering and participating in our events. They can get involved at their workplace by starting healthy initiatives. BlueCross is doing a great job in February to bring awareness to the disease. People can partner with us to do risk tests. Others can lead by example and be an advocate. Employers can encourage their employees to be healthier, to get out and walk. I think it is important for more companies to understand what their employees are going through. (For tips for employers on how to build a healthier workplace, see our recent post.)
6. What would you like people to know about diabetes and the American Diabetes Association? 
We work hard to be advocates for everyone living with diabetes. We have a phone line that people can call if they need help with the cost of prescriptions or diabetic related necessities. We are helping the community afford the things they need to live with diabetes. When we have events and raise money, it is important to note that the money raised here stays here in the state. It goes to help people here in South Carolina. 
7. Where can people go for more information? 
More information is available on our website, www.diabetes.org. Our website is amazing. The Diabetes Food Hub is great for people with diabetes or for anyone. The recipes are amazing. There's so much information that it is a great place to start. They can also reach me through email at tmoore@diabetes.org or by calling 800-DIABETES.
This article contains links to third party sites. Those organizations are solely responsible for the content and privacy policies of their sites.